Featured Image Credit: The Sacramento Bee, Hector Amezcua
My home burned in a wildfire, what do I do?
Unfortunately, this is becoming a question asked with more frequency as devastating wildfires have ripped through Northern California in recent years. In our area alone, we've seen communities wiped off the map in Santa Rosa, and Paradise CA. The recent Tubbs, Carr, and Camp Fires have impacted thousands of lives and burned thousands more homes.
With the most recent Camp Fire impacting some of our insureds, we wanted to provide a resource to those affected by these devastating fires. We hope it's useful navigating and starting the recovery process.
The following was released by CA Insurance Commissioner Dave Jones:
"Our thoughts are with those who suffered a loss as a result of the recent California wildfires. The loss of life and property in the communities hit by these fires is heartbreaking.
My staff at the California Department of Insurance (CDI) is here to help fire victims with insurance related issues. In an effort to assist victims of these devastating fires, I have deployed my staff to the Local Assistance Centers to help fire victims. We are continuing to work closely with other federal, state and local agencies to assist in recovery issues related to insurance.
Please work with your agent, insurer claims adjuster, and insurer with a goal of achieving a settlement that you believe is fair and consistent with your coverage. I know this can be a very challenging time. If you have a question about your insurance or a dispute with your insurer, please call us at 1-800-927-4357. I hope the guides listed below can help you understand some of the key insurance coverage terms that typically apply, prepare you for the process of making and settling a claim, and help you to avoid some of the pitfalls that can occur along the way."
Once you are safe, we recommend you consider the following steps.
Call your insurance agent or insurance company. They will help you start a claim, even if you aren't sure if your home has burned. You will be eligible for loss of use coverage, which will help cover your expenses such as hotel stays, meals, personal use items that you had to buy while being evacuated. This also makes the claim process faster if you discover your home is damaged or is gone; the adjuster is already assigned and ready to work on your claim.
Keep your receipts! Your insurance company will need proof what of you have paid for you to be reimbursed.
Register with the Red Cross and with FEMA. Federal funding may become available and you will need to be on these lists to be eligible.
Get a PO Box and go online to https://www.usps.com/manage/forward.htm to have you mail forwarded to this new address.
Call your utility, cable/satellite, alarm and other monthly service you have at your home to discontinue service. Let them know the situation and they should stop service immediately.
Think about where you want to live during the rebuild process. There are going to be a limited number of rental homes available around the site of the fire, you may need to set up a rental home in a neighboring town or by your work. Your insurance company works with relocation specialists to help you locate a place as well, but if you are able to network with someone locally, you may get into a place that isn't known to other property managers.
Start the process of itemizing all of the personal items in your home. This is going to be tough, one because of the emotional trauma you've just gone through and two, most people can't remember all of the items they have in their home. If you start this list now, you'll have time to add to it as you remember things. Start in one room of the house and try to list out each item. Go through pictures on your phone, you'll be surprised as to what you'll find in the background of your pictures.
State of California Wildfire Legislation
In addition to this list, several CA State Legislative Bills have recently passed that could assist you in the recovery process. This list was compiled by the PIFC (Personal Insurance Federation of California) 916-422-6646 http://www.pifc.org/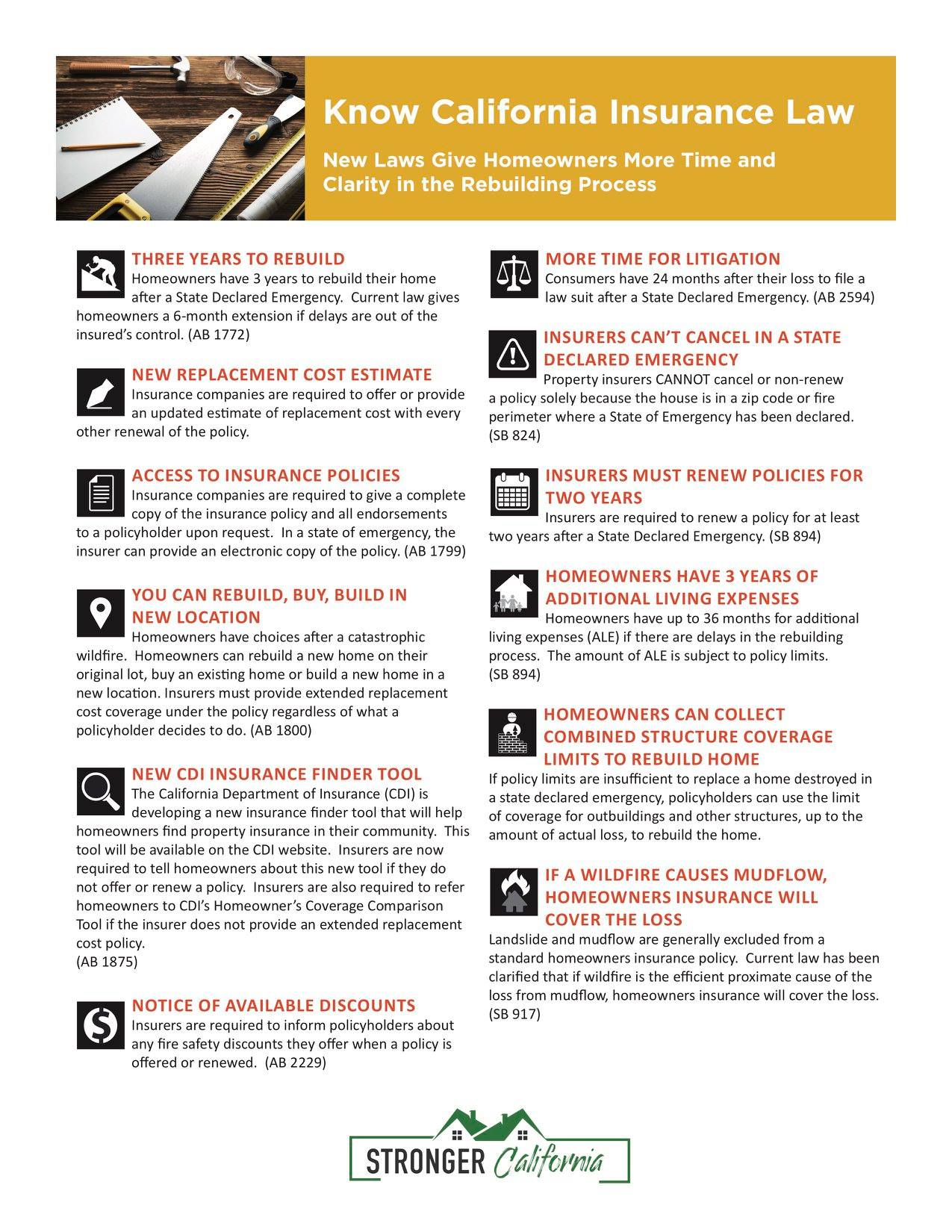 What to Expect When FEMA Arrives:
This is a good link to what you can expect in regards to FEMA, and the resources that will become available, if applicable.

https://www.actionnewsnow.com/content/fire-watch-stories/What-to-Expect-When-FEMA-Arrives-500256132.html?fbclid=IwAR2zrQsiuRbgZs8AzgbZ4QD3Uz2WYBcESn86b-E4pb3DZSelihYdRp5kl2c
Important info for those impacted by the CAMP FIRE: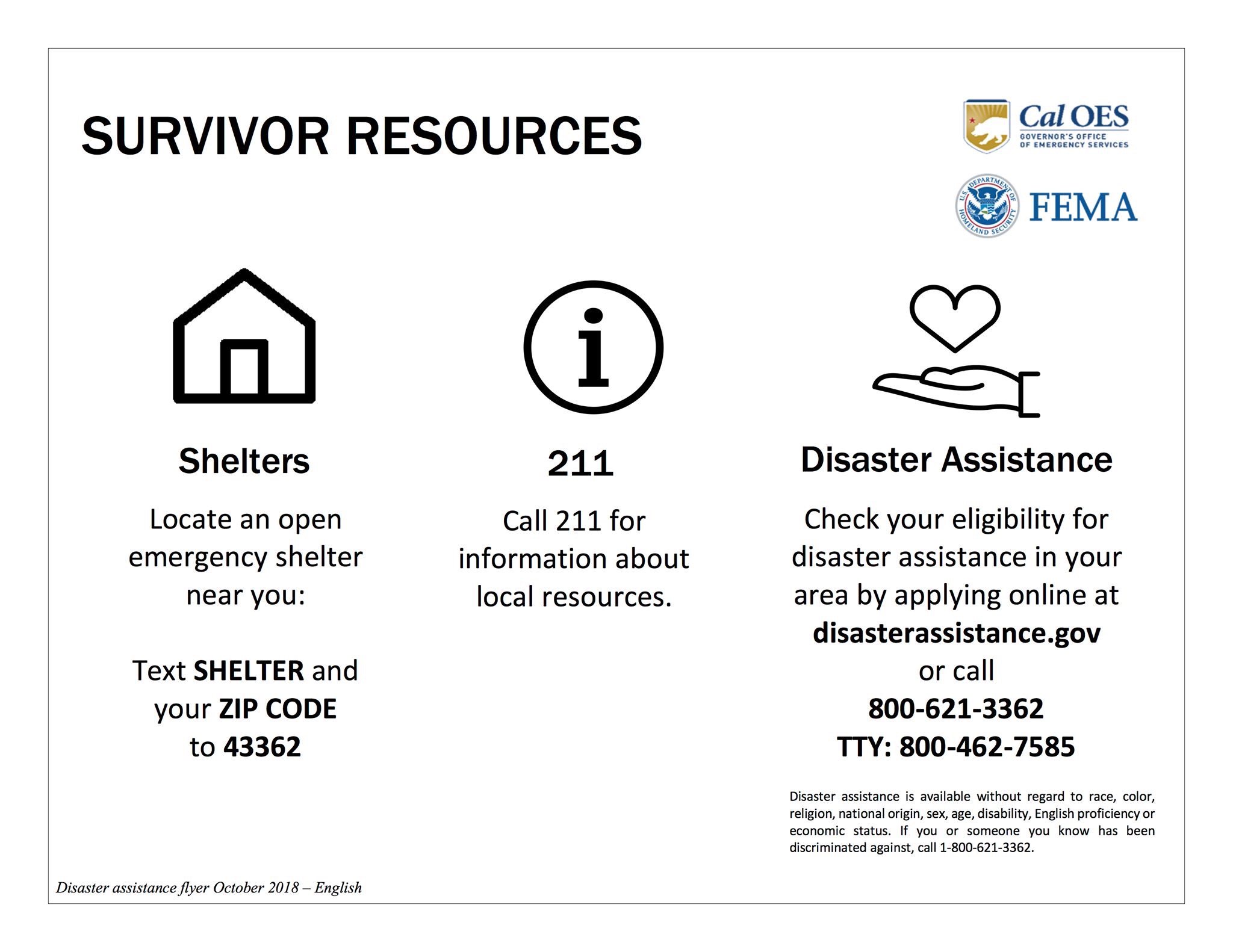 Finally, here is a link to a cumulative list of resources, and a website dedicated to those affected by the Camp Fire: https://buttecountyrecovers.org/
We hope you found this to be a useful resource. We know this will be a long recovery in many ways and our hearts go out to those impacted by these fires. You are in our thoughts and prayers.